Ever since I was a little girl, we had a tradition in my household to pick a day right before the official change into the new season and go shopping to prepare for it. My mom would take me and my sister clothes and shoe shopping on a weekend and we'd spend all day just giggling in our contentment. That small but significant ritual marked the beginning of the seasons for me for years. Even now, the prep for the new season always starts with the addition of a few key pieces to the wardrobe. This year RoseWholeSale is helping me big time because everything I need is there in one spot – all at a fantastic price too !
Im sharing my monochrome Fall picks with you all. Each piece is curated to fit perfectly into any closet, and work with the existing pieces that most of us own. Let me know what you think !?If you love anything (and im sure you will) you can use my code? RWWISHLIST?for an extra discount ! You're welcome !
So heres the list :
The Sleek Leather Jacket
This is a must have for every single closet. If you dont own one now, please elevate your closet game and get it today ! This fantastic piece is only $35.60 as its faux leather but looks absolutely real. Now you can save money and ofcourse wear this guiltless ( in more ways than one) Buy it HERE !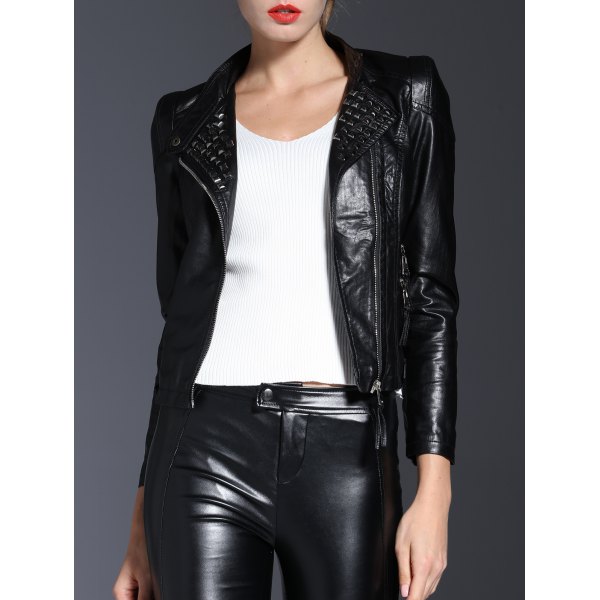 The Sophisticated White Blouse?
Is there anything chicer than a crisp white blouse in ANY season? Summer Whites are fabulous ofcourse, but White with your tan boots and that camel trenchcoat is the perfect choice for the Fall season.
This amazing white blouse with mesh details by RoseWholeSale is only $18.95 ! Buy it Here!
The Non-traditional Leather Skirt?
What do you think when someone says "Leather Skirt"? ?I would say 'Something short and tight in proximity of platform heels and bleached hair' – but this pleated ladylike leather skirt totally shatters that over-the-top image and bad rep for leather skirts. This can be worn with chiffon blouses with chanel flats on a Sunday brunch date. Take it out for a spin yourself as this beauty is only $18.06 ! Buy it HERE !
The Wear-it-Everywhere Ankle Boots?
Unless you have been living under a rock, you should know that graphic geometric print + chunky heels are SUPER in ! I mean everyone from Kendal K to Zendaya to the Blogger down the street has been wearing them ! They go with your jeans (both BF & skinny), they go with the skirts (gives you an edgy look) and ofcourse they go with the Fall staple of leggings and slouchy sweaters. So whats not to love ?
These beauties are only $24.53 – Buy them HERE !
The Trendy IT-Jacket?
Gucci started this trend and we the herd have to follow ! The IT jackets of the season are silk zippered bomber style jackets in every color imaginable with pretty embroidery on the front and bag. If you buy nothing else this season. This is the time to indulge in the Trendy IT piece in the sexiest colors of black white and red.
For the amazing price of $30.19, you can become the IT girl ! Buy it HERE !
The Nostalgic Bag?
Fall + Backpacks just reminds you of Going back to School Time. Well even though school days are over for some of us, this backpack obsession continues with the stylish and sexy new ones around the market. With weathered leather and zipper details, you can imagine some lookbacks with this one.
This beautiful stylish piece is only $17.48 – Buy it HERE !
The Comfy yet Sexy Sweatshirt?
Its hard to combine lazy comfort with Sexy style – but somehow this sweatshirt manahes it ALL – I can see myself living in this the entire fall. Pair with leggings and Uggs for the Pumpkin Spice latte runs and wear it with skinny jeans and chunky heeled boots for a quick dinner out. The BEST part is that this one is 50% off and is marked at only $10.85 ! Buy it here NOW!
So that were my few picks for the upcoming Fall. These picks plus a TON more at incredible prices are available at RoseWholesale. I love them because they are great prices plus they stand behind their products by seeking out customers to post actual pictures where you get rewarded.?as well as write honest reviews – you can check them out here !