Gone are the days when the preferred working out outfit was your oldest, most tattered tshirt that could accommodate 2 of you. Today gym is another place you can rock your style but still be comfy. Theres a lululemon and Athletica in virtually every mall now because "workout gear" is the new fashion "IT item" that needs to be in every girl's closet. Wearing your workout clothes to the mall, out to brunch or for travel makes it a must-have in your closet.
If you want to roll your eyes at all the other "hey they're versatile" reasons because you do dress in your Sunday best for brunch with the ladies, then the best reason to indulge in some cute workout gear is because they are a proven way to revamp your motivation to workout.In the simplest words
When you look good, you feel good.
If these new trendy pieces are hugging your body in the right places with the bright colors, modern patterns AND fabrics that absorb sweat and keep you cool, you will look for any excuse to wear those again and again.
Since its the Winter time, I prefer a light sweatshirt with some leggings. This whole outfit was from my fav new place to get my workout gear, which is Fabletics. This outfit was $127, but cost me only $33 with free shipping because of their promotion to signup and get first item for $25. I made a few changes, so with tax it was over a few bucks. but not bad eh ! You can try it out here 😕Signup for Fabletics
Can we please talk about my shosies? I absolutely fell in love with with at Nordstrom Rack ( my fav store) ! . They are Puma brand and have a faux leather finish to them. I can totally see myself inside or outside the gym (mall/movie/brunch) with them on. Super comfy ! Buy them? HERE !
Keeping in theme with the leather accesories, I wanted to add some more details to finish off this outfit with the feminine vavavoom that I like in every outfit. My solution : a leather Bow in your hair ! Get yours here?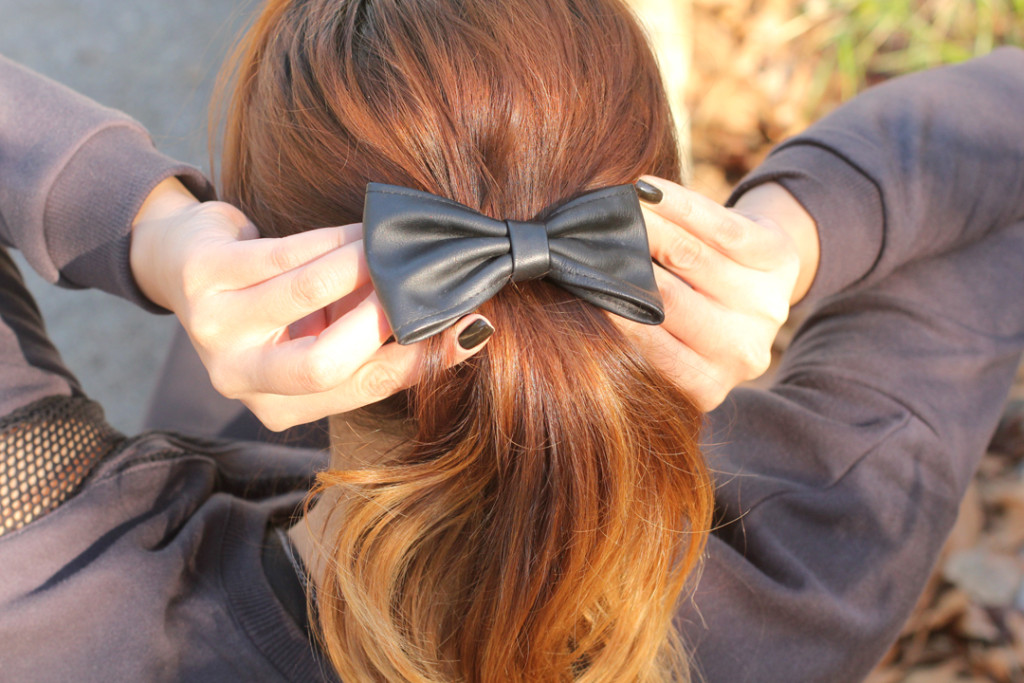 Last but not the least, I kept my skin natural with a tinted moisturizer. Make make sure you wear SPF 15+. I love Aveeno Tinted Moisturizer. Its easy and inexpensive !
Ok one more "I never sweat" picture before I wrap this up. Honestly I NEVER look this pulled together when Im actually working out. Its a mess. a beautiful healthy mess though !
Happy Sweating Beautiful People !