Nothing makes you feel like a wonder woman more than a chic cape dress. This embellished ?chiffon Cape Dress came to my doorstep all the way from Pakistan curtsy of Elegant Fashion. Wearing this modern piece with the traditional embroidered motifs made me realize how much the Pakistani fashion scene has changed over the last decade. The designers are playing with different silhouettes, non traditional fabrics to push the boundaries as well as appeal to a more international market.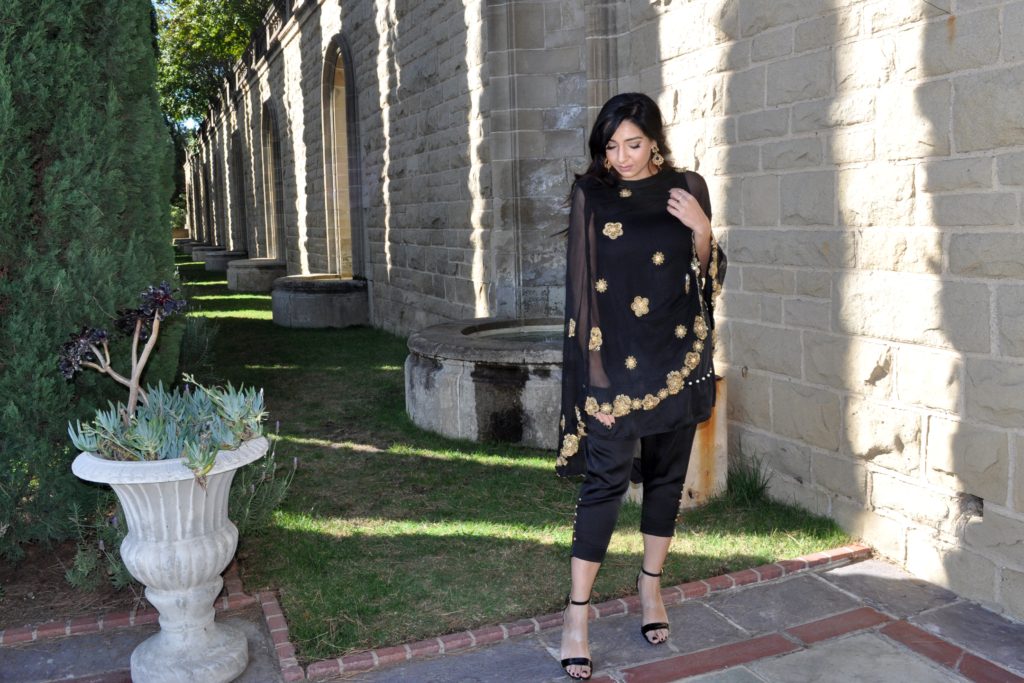 As the holiday season approaches, the festive undertone is seen everywhere from household items to fashion accesories and ofcourse what we wear. Mostly combining the sparkly holiday dresses with a comfortable feel is hard. However this Elegant Fashion Cape Dress looks like a million bucks, but feels as comfy as wearing your fav sweats. With the luxurious 100% silk fabrics of the Shalwar kameez underneath to the chiffon cape which feels light and airy, this dress is going to be worn quite a few times in the upcoming wedding and holiday season. You can check out their other designs and order Online?by messaging them directly on Instagram.
Elegant Jewelry which is a by-line of Elegant Fashion was kind enough to send me matching earrings, I paired my fabulous Cape Dress with those and complimented it with more gold jewelry, a black and gold Valentino chain strap bag and black strappy heels.