I'm a proud survivor of the Polar Vortex that engulfed the whole of Midwest with temps dropping as low as negative 55 degrees. There were warnings of frost bite on any exposed skin within 5 minutes of being outdoors. The snow continued falling for a good straight 14 hours and ended with over mountains of white fluff everywhere you looked. Cities came to a stop still with schools closed and most of the businesses closed. My question: what do you wear in a weather like this (if you just HAVE to go out).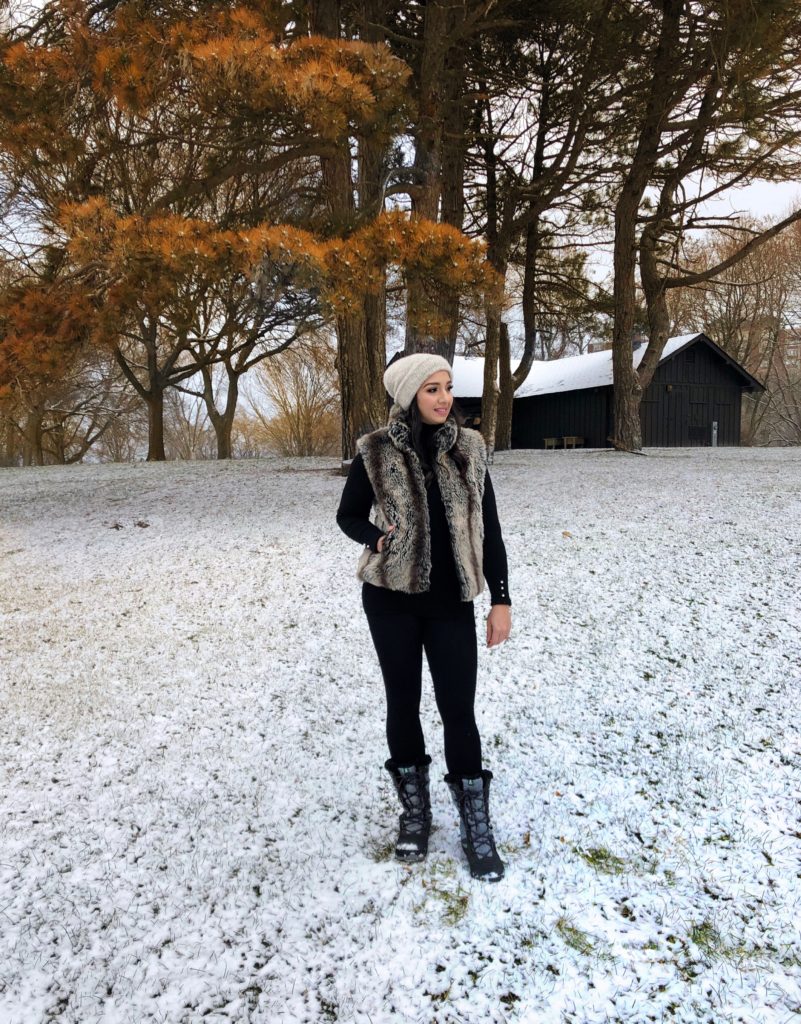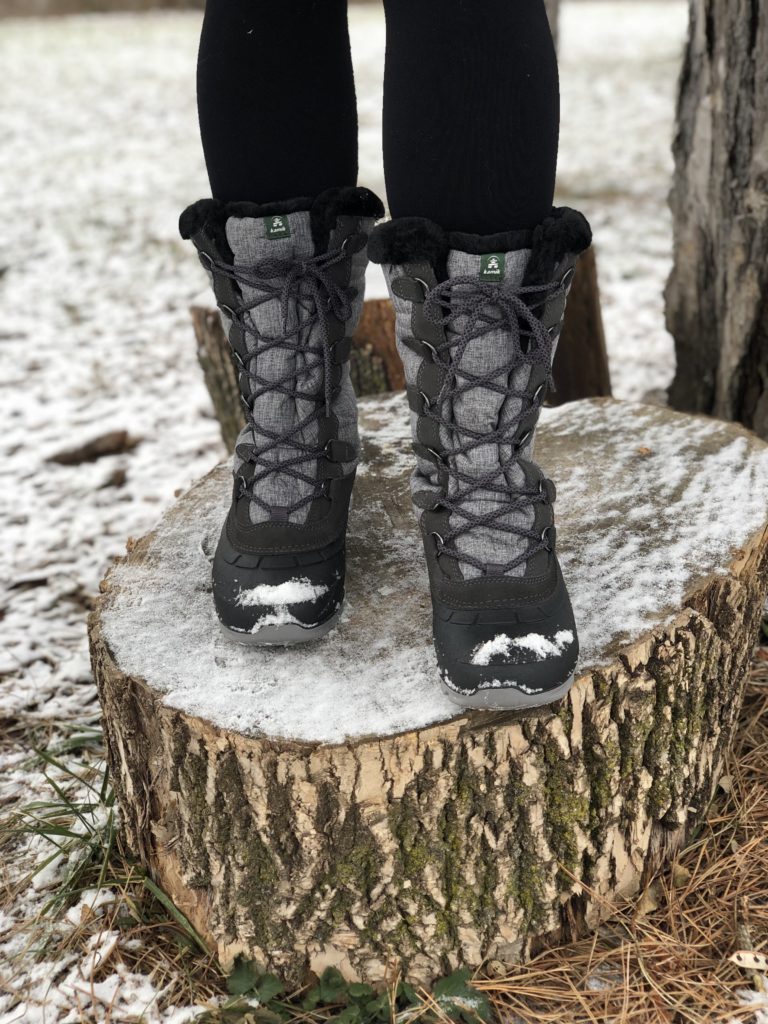 Well Ill start with the obvious – the Snow boots! If you are living in the midwest and have to deal with snow, do yourself a favor and invest in some good snow boots. They will save your other shoes from the dreaded salt and snow mixture, which is deadly for any good shoes. Trust me, I have sacrificed a good too many leather boots for that. Plus Snow boots cover upto your knees depending on the ones you get, so you are toasty warm too. I recently got a pair of Kamik Boots which I LOVE. I have worn these almost everyday whenever it has snowed. I keep a pair of work boots under my desk at work and just quickly change into those for work day, but any outdoors time has been spent wearing those comfy, cozy boots. Plus these days the snow boots are super cute and doesn?t look like you have two furry cats strapped to your legs.
From toes to the top of the head: Lets talk caps/hats. Im gonna be the first person to admit that Im super awkward when it comes to wearing anything on my head and being comfortable with myself. I always see myself as someone who'd feel all fancy wearing a cool fedora with a white tee or a large beach hat with a loose maxi, or a necessity of having a warm wool cap to protect from those freezing temps – but NOPE! I always feel like a dork. The keyword here is "feel" but I think I look fine. My last attempt at winter caps was actually quite a hit. I partnered with LindoFur for their amazing toques (a common term for winter caps in Canada). They were generous enough for me to design 3 combinations of fur on top and different varieties of caps. The best part is that these fur on top is now interchangeable. So endless combinations for me. Plus these hats are the warmest and comfiest I have ever worn. I pull it down to cover my ears all the way for the best coverage.
Lastly Winter Jackets: There are endless varieties of these as well. Coats or Jacket is the first choice. I say BOTH – living in the midwest or any cold weather area, you have to have both as 5 or more months out of the year you are going to need some form of Winter protection – but if you think in terms of outfits and not just clothes – then you need a coat that you wear with dressier outfits (def with heels) and a jacket for all the other times. If you want to diversify your closet even more, then you need a short peacoat, a long coat, a leather jacket, a spring jacket and lastly that winter jacket that engulfs you in warmth and coziness.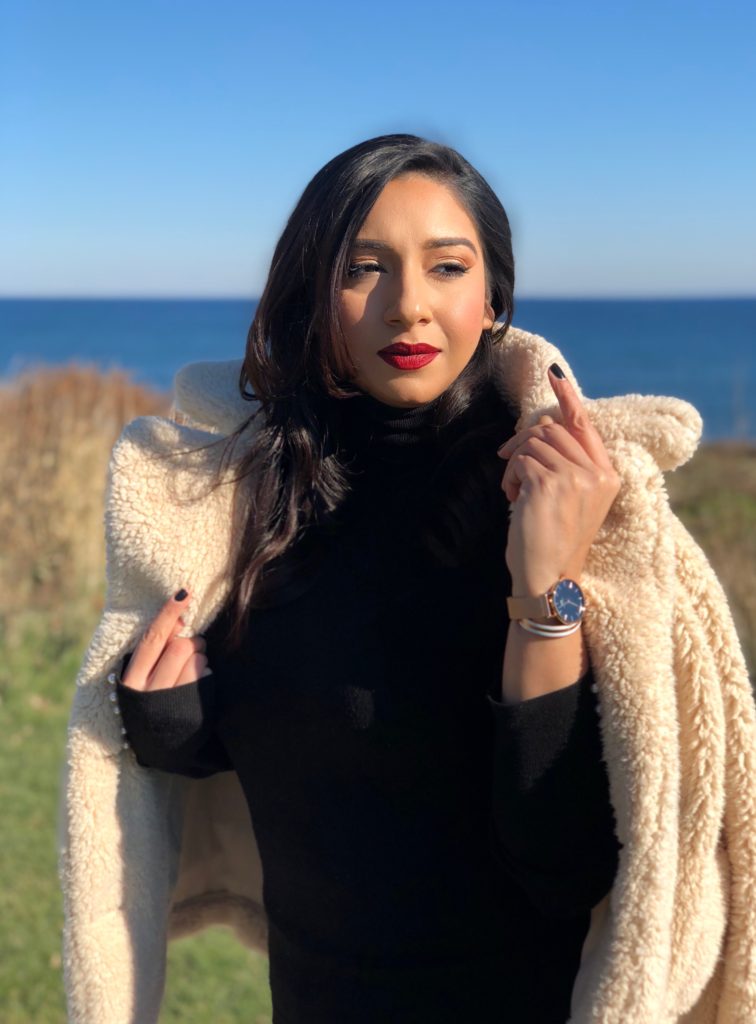 Apart from these major categories, theres definitely undergarmets, socks, scarves, ear muffs etc that will keep you looking fabulous and warm.